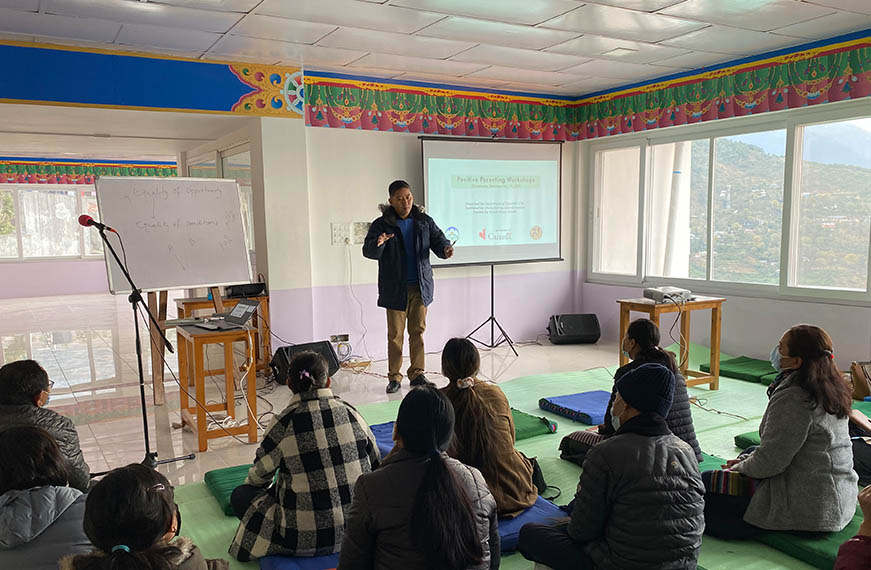 The Positive Parenting Workshop organized by the Department of Education, CTA in collaboration with the Manjushree Educational Services (MES) kicks off from 6 December, 2021 at Sager Science Centre, LTWA.The parenting workshop is organized from 6 – 17 December 2021 for the parents of children studying from pre-primary to class V in Mewoen Tsuglag Petoen School, Dharamsala.
The parents of children studying at Petoen School reside mostly in and around three different locations: Gangchen Kyishong, McLeod and Norbulingka. Hence, for the maximum participation and smooth conduct of workshop, the parenting workshops are being held at three venues:
Sager Science Centre, LTWA (6-9, 14 and 15 December): for the parents residing in and around Gangchen Kyishong,
MES Library, McLeod Ganj (13 and 17 December): for the parents residing in and around McLeod Ganj, and
Tokyi Futsal Hall (16 December): for the parents residing in and around Norbulingka.
The workshop aims to provide research-based positive parenting guidance to the parents focusing on ways to involve themselves in their child's education. The trainers for the workshop are Mr. Buddha Kyab and Mr. Jamyang Gyaltsen from MES. Mr. Kalsang Wangdu, Field Representative of Alinea International was present during the workshop as an observer.
Earlier in March 2020, the positive parenting workshop was provided to 477 parents in the 11 south schools. Due to all India lockdown as a result of huge surge in COVID-19 cases since end of March 2020, the parenting workshop could not be conducted physically till now. With the gradual improvement of COVID-19 situation, we have started conducting physical workshop for the parents residing in Dharamsala.
The workshop for parents are funded by Global Affairs Canada.