Early Grade Reading Workshop for Primary Teachers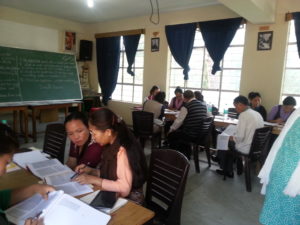 Early Grade Reading Workshop for Primary Teachers at TCV, Gopalpur
The Department of Education is organizing a five day workshop on Early Grade Reading for Primary Teachers in the Tibetan Language Lab of Tibetan Children's Village Gopalpur between 9 th to 13rd October, 2016. This Workshop is attended by 19 participants from different categories of schools namely , THF, STSS & TCV. We are emphasizing to train all the Primary Teachers teaching all the subjects in Tibetan schools in India. We want to make all the children capable of reading independently for early grades.
This batch has a mixture of teachers teaching different subjects which has proved worthy for the teachers to gain first hand information by sharing their experience " how they are tackling the children to make avid reader". The teachers are participating actively and taking a keen interest while reading the resource material. They have reflected on certain mistakes that they were making unconsciously while teaching children how to read.
The current batch of participants include teachers would teach different subjects in primary school.The teachers engaged with the importance of promoting live long reading habits among Tibet an Children. The teachers are participating very actively and have shown keen eagerness to implement the learnt ideas.
Mrs. Tenzin Legzey, Education Officer for Humanities will be monitoring the effectiveness of the program. Dr. Latika Gupta is the resource person of the workshop. This workshop is being funded by USAID through THE TIBET FUND.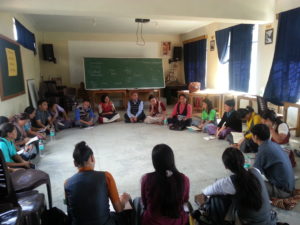 (128)