Education Kalon's Visit
NEW DELHI: On 11 August 2016, Mr Ngodup Tsering, Education Kalon paid a short visit to the ongoing Social Science (3 – 12 August) and Science Workshop (8 – 17 August) for TGTs organised by the Department of Education, CTA in collaboration with NCERT, New Delhi. He was accompanied by Mr Tenzin Dorjee, Head of Academic Section and Mr Kalsang Gonpo, Deputy Secretary, DoE, CTA. There were 25 and 21 participant teachers in Social Science and Science Workshops respectively from schools under CTSA, TCV, THF, STSS in India and SLF, Nepal.
On his arrival at NCERT, Education Kalon was invited by Dr Hrushikesh Senapaty, Director and Prof. B. K. Tripathi, Joint Director, NCERT at the Director's office. He thanked NCERT Director for supporting the various workshops organized by DoE and the Director has assured to provide every support in strengthening the educational endeavours of DoE in future too. After that, he visited both Social Science and Science Workshops had a brief interaction with the participants. The participant teachers expressed their full satisfaction with the contents of workshops and logistic arrangements. At the same time, the faculty members of both Social Science and Science Departments of NCERT have spoken high of our teachers.
Education Kalon, in his remarks, explained how teachers play a very important and crucial role in nation building. While doing so, he stressed three critical qualifications a teacher must have. These are:
Good command or in-depth knowledge of the subject
Ability to use various teaching techniques
Dedication and commitment towards job
At the end, Kalon offered special thanks to the faculty members of NCERT for taking great care of teachers. The two workshops are part of the various projects being funded by DFADT, Canada which is now known as Global Affairs Canada.
– Report filed by Department of Education –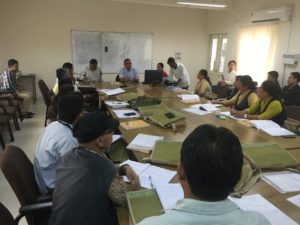 (155)