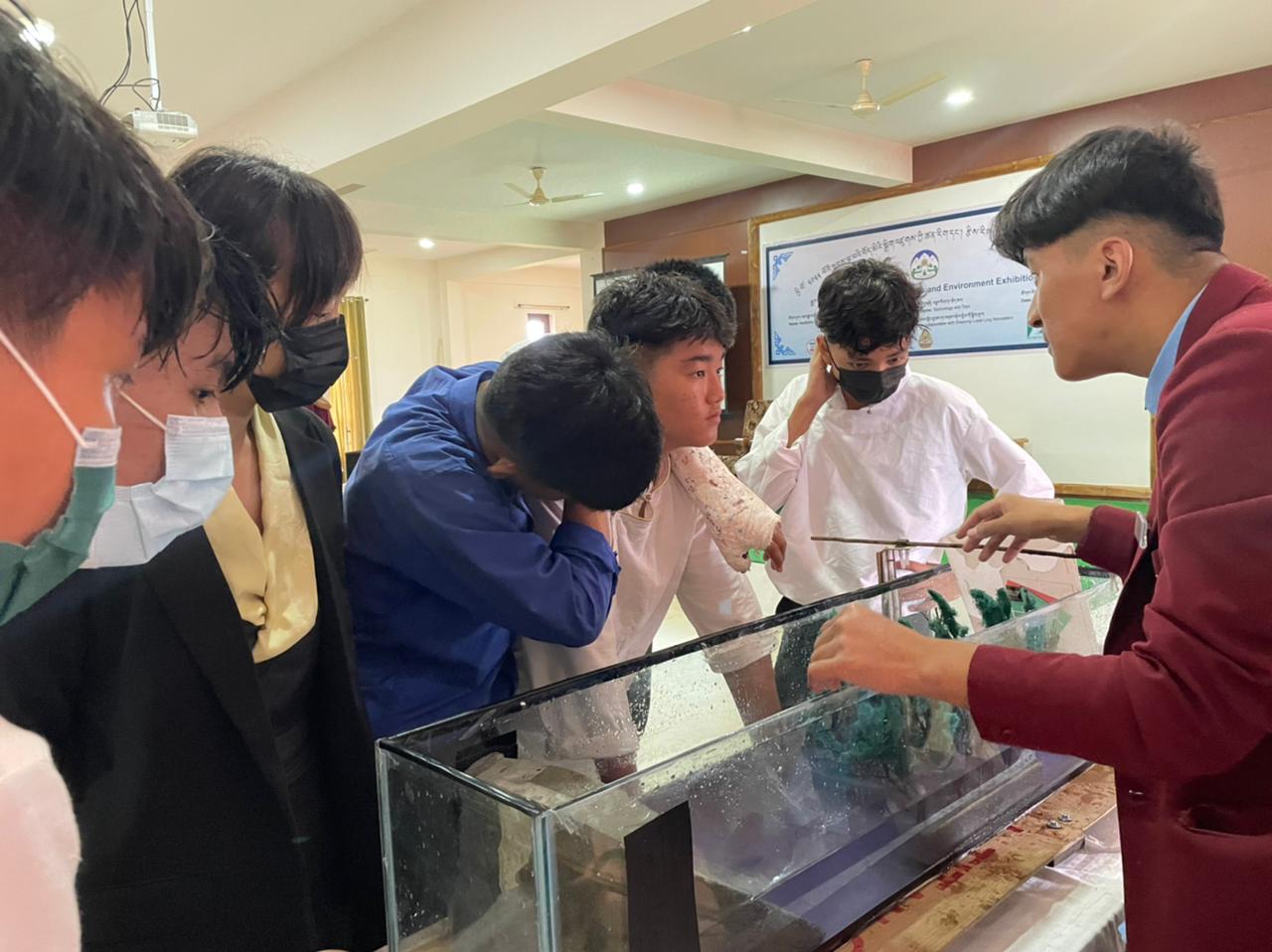 Mundgod: The Department of Education organised the 5th CTA Level Science, Mathematics and Environment Exhibition–2022 at the Drepung Loseling Meditation and Science Center, Mundgod from 9 – 12 August 2022 to encourage, popularize and inculcate scientific temper among the children of the Tibetan schools in India.
The department organises this exhibition every year where children showcase their talents in science and mathematics and their applications in different areas related to everyday life and to appreciate the role of science and mathematics in overcoming the challenges of life.
The theme for this year's exhibition is "TECHNOLOGY AND TOYS", which covers the following sub-themes: Eco-Friendly Material; Health and Cleanliness; Software and Apps; Transport; Mathematical Modelling; Environmental and Climate Changes
9 Tibetan schools that participated in the exhibition were STS Kalimpong, STS Chandragiri, TCV Selakui, STS Gurupura, TCV-Bylakuppe, STS Dholanji, STS Mundgod, Drepung loseling school and Drepung Loseling Meditation & Science Center. 24 exhibits with one exhibitor as a representative from each exhibit and 8 teachers from Tibetan coeducation schools and monastic school teachers escorted their exhibits.
Abbott of Drepung loseling was the chief guest at the inaugural session. Geshe Tenzin Nyandak, Administrator, Meditation & Science Center, Drepung Losel Ling Monastery, Mundgod convened the inaugural session with welcome remarks followed by an introductory speech from Mr Dorjee Wangdue, Science Education officer of DoE, CTA. He introduced the objective and historical development of the current exhibition both at the national level and CTA Level, the mechanism of the exhibition, role and responsibility of the department. Settlement Officer Lhakpa Dolma spoke on the importance of science education and stressed climatic change environment issues.
As part of the exhibition, a seminar on the topic "Scientific Academic Institute of India"was also conducted by Dr. Tenzin Passang, Director of the science centre, Mr. Chime Tsetan PGT Biology of STS Mundgod and Geshe Gelek Gyatso as expert speakers at the Seminar.
Later in the afternoon, the exhibits were evaluated by panel judges and the selected eight exhibits will be sent to NCERT as entrée for the 49th JNNSMEE–2022 to be held later in the year.
The principal of STS Mundgod school inaugurated the exhibition for students and public viewing on 10th August. Monks and students from class VI and above from STSS Mundgod and neighbouring monastic schools visited the exhibition. The exhibition remained open for public viewing for two days and on 11th August, all students-exhibitors introduced their respective school's exhibition to the audience. Tenzin Dorjee head of academic section, DoE concluded the four-day exhibition by distributing certificates to the exhibitors.
The exhibition was funded by USAID through The Tibet Fund.