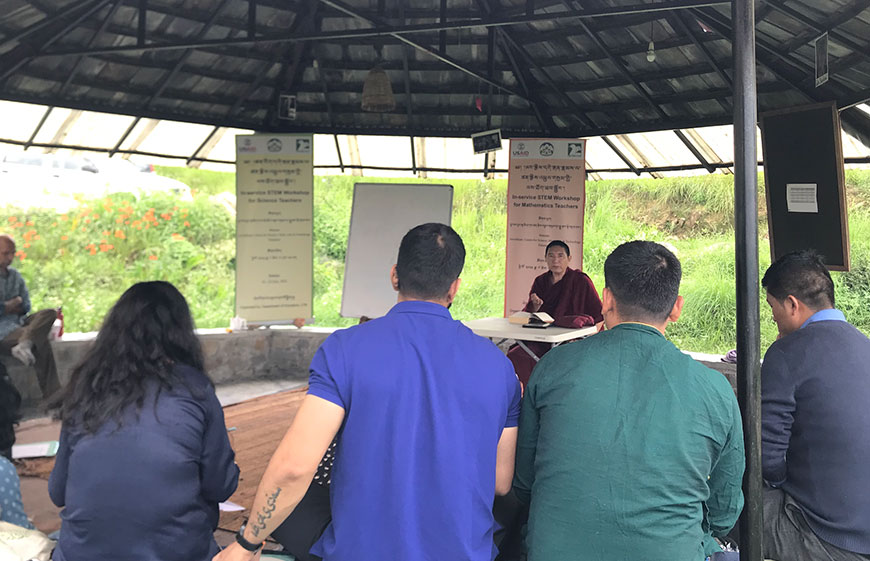 Palampur, 20 July 2022: The Department of Education (DoE), Central Tibetan Administration, organised a 5-day STEM Workshop for science teachers of Sambhota Tibetan Schools (STS) from 18 to 22 July 2022 at Aavishkaar: Center for Science, Maths, Arts & Technology.
The workshop, funded by USAID through The Tibet Fund, was conducted by Sharat Sharma and Sandhya Gupta from Aavishkaar and was coordinated by Dorjee Wangdue, the Science Education officer from DoE.
In his address during the opening program, Dorjee Wangdue said "The In-service workshops are essential to work toward the growth of the profession. In the changing scenario of the modern education system, teachers are the most important element in this shift of the education system for implementing the educational process at any stage. Hence, the workshop aims to improve the quality of science instruction, encompassing techniques, strategies and approaches that would help our teachers strengthen STEM education in schools. The workshop will focus on understanding concepts in science, incorporating a collaborative way of hands-on and minds-on learning, scientific inquiry and creative/critical thinking skills in the classroom."
Ven Lobsang Khechok, a board editor member of the books titled 'Science and Philosophy in the Indian Buddhist Classics' took a session to introduce the book to participants on White Wednesday (Lhakar) and DoE distributed the book to all the 18 participants.
A similar 5-day workshop for maths teachers will be organised at the same place from 25 to 29 July 2022 for the Math teachers.