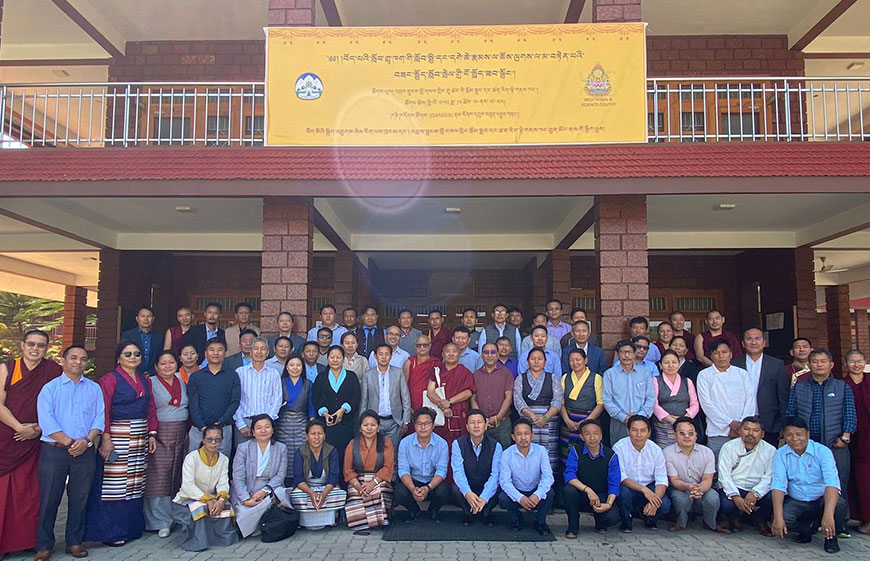 Mundgod: The Department of Education of the Central Tibetan Administration and the Losel-Ling Meditation and Science Center co-organised a three-day exclusive workshop on Secular Ethics for Tibetan school heads at the Losel-Ling Meditation & Science Center from 24 to 26 December 2022.
Prof. Geshe Lobsang Tenzin and Tsondue Samphel from the Center for Contemplative Science and Compassion-Based Ethics of Emory University facilitated the workshop, which was attended by 62 participants including 56 principals, headmasters, and headmistresses from 50 different Tibetan schools in India and Nepal, and 6 monks & nuns.
The inaugural address was made by the Chief Guest, Losel-Ling Monastery's Deputy Abbot Geshe Choephel followed by the introductory speech given by the Director of the office of Education Council of the Department of Education. In her address, she reminded the audience about imbibing numerous precious guidance given by His Holiness the Dalai Lama including His four commitments. The first commitment on the promotion of basic human values could be implemented through Secular Ethics, the subject which has been propounded by His Holiness. Under the guidance of His Holiness the Dalai Lama, Emory University has published a new Curriculum called 'Social, Emotional and Ethical Learning' has proved as a complete school curriculum for educating the heart and mind. Hence, she requested the school heads to study SEE Learning thoroughly and implement it in schools with conviction. This is for the wellbeing of themselves and others in the schools and society at large.
The 3-day workshop was facilitated on twelve topics including SEE Learning Framework, Resiliency Skills, Compassion, Self-Compassion, Attention & Self-Awareness, Navigating Emotions, Common Humanity, Systems Thinking/Interdependence, Ethical Discernment, SEE Learning Curriculum & Pedagogy Model, Revisit Framework and Enduring Capabilities, and SEE Learning Implementation.
The closing session of the workshop was held from 5.00 to 6:15 p.m. presided over by the Losel-Ling Deputy Abbot Geshe Choephel. In his closing remarks, the Chief Guest emphasized the importance of having the commitment to materialize the aspirations of His Holiness. The participants' representatives unanimously expressed the success of the workshop, and the main reason for the success is that all the people gathered over here share a common goal of following the footsteps of His Holiness. The participants' representatives including Principal Chemi Lhundup, Education coordinator Sherab Dolma, Headmaster Rigzin Dawa and Principal Tenzin Nagdon from TCV Suja, SLF, THS Mussoorie and STS Kollegal respectively. The administrator of the Meditation & Science Center Geshe Tenzin Nyandak expressed the vote of thanks to all who made this workshop successful.
The project has been funded by DANIDA.