EGR Workshop for Pre-Primary Teachers Underway
The Department of Education, CTA Dharamasala is organising the first leg of EGR workshops for pre-primary teachers from 29 April – 3 May, 2019 at Administrative Training & Welfare Society, Dharamsala. A total of 23 pre-primary teachers from STSS, TCV and THF schools from northern region are participating in it. The second leg of the workshop will be held at the same venue from 6 – 10 May, 2019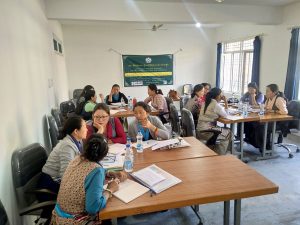 with 22 teachers participating in it. The resource person for both the workshops are Ms. Sonam Gangsang, EGR Coordinator of the Education Department.
The inaugural session of the workshop was attended by Mr. Tenzin Dorjee, Head of Modern & Traditional Academic Section, DoE. Ms. Sonam Gangsang in her introductory remarks welcomed the participants and gave a brief historical background of EGR Program initiated by DoE. This was followed by self-introduction of each participant. Mr. Tenzin Dorjee in his inaugural speech said that the first six years of a child's life are the most crucial years of both physical and cognitive development. Since the foundation for future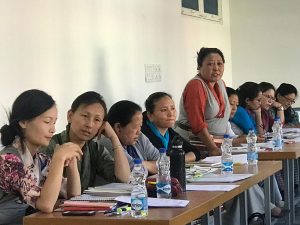 development of social and personal skills are laid during these years, the pre-primary teachers must understand and identify stages of development of each child. Talking about the importance of readiness, he stressed that these are years for preparing the child for getting ready for reading, writing and number work. Hence, no formal teaching should be done but rather focus on readying the child to be receptive to learn. Initiating formal teaching of reading, writing and mathematics may damage the child's overall growth and development in later years of the child. Later, he also outlined few of the important initiations such as organising Montessori workshops in collaboration with AMI, EGR workshops for pre-primary teachers and distributing teaching aids to pre-primary schools, made by DoE in strengthening Pre-primary education in exile.
The inaugural session was followed by a session on "How do we read?". The formal inaugural session ended with a group photo session. Both the EGR workshops for pre-primary teachers are being funded by USAID through the SARD and the Tibet Fund.