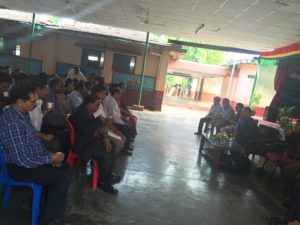 Visit of Education Kalon to Schools in Southern India
On 21 August 2016, as a part of Visit to Schools in southern India, Honorable Education Kalon, Mr. Ngodup Tsering accompanied by Mr. Dorjee Tsering, Coordinator, STSS were formally received by Mr. Phuntsok Tsering, Settlement Officer, Dogueling Tibetan Settlement Office.
The day after, honourable Kalon was accorded a befitting welcome reception by the Dr. Lhakpa Choden (Officiating Principal), Headmaster and staff of CST Mundgod. A function was organised by the school in the Assembly Hall. The Officiating Principal gave a roaring welcome to honourable Kalon which was followed by number of literary activity presentation by students. The presentation was followed by speech of Kalon who exhorted on the importance of education, the four key components for the provision of quality education, namely administration, teachers, parents and students. He also stressed on the importance of inculcation of good ethical conduct based on 10 wholesome action in daily life. Students are also advised to avail the plethora of higher educational facilities provided by the Department of Education, CTA. After the morning function, honourable Kalon paid a detail visit to observe the classroom learning, hostels and kitchen. Later, he also interacted with Indian staffs.
In the following days, honourable Kalon will be visiting the two branch schools which were recently transferred from Central Tibetan Schools Administration to Sambhota Tibetan Schools Society. He will also be meeting with the settlement officials and will address the settlement people.
The visit to Mundgod will be followed by his visit to Hunsur, Bylakuppe and Kollegal.