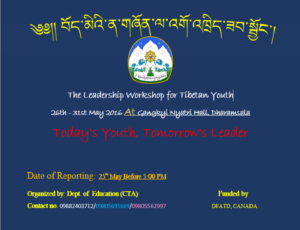 Leadership Workshop for Tibetan Youth
May 26 to 31, 2016
Venue: Nyatri Hall, Gangchen Kyishong, Dharamsala Funded by: DFATD, Canada
Who Can Apply?
She or he who has never attended leadership workshop from any Organizations (Public/Private/NGO)
She or he must be either studying in Undergraduate 2nd year or above
She or he must be nominated by the Executive member of Regional Student Association or RTYC
She or he can self-nominate if there is no regional student association or RTYC
Distribution of Seats:
30 Seats – 2 participants (A boy & a girl doing undergraduate program) from 15 major cities in India
12 Seats – 2 participants (Boy & a girl) each from 6 Tibetan Center of Learning in India
10 Seats – 2 participants each studying Postgraduate & above from 5 Major Cities in India (Bangalore, Chennai, Delhi, Mysore & Baroda)
06 Seats – College students from Nepal
Mode of Selection:
The Local student association will select the participants based on above criteria
The association has to submit the names of participants to the Department by May 17, 2016
The list of the participants not submitted from any Association or RTYC to the Department of Education before the deadline, the seat offer will be given to college having larger student population.
The Department of Education will bear the Travel Allowance (Non Rajdhani AC-III)/Non AC Bus & DA of Rs. 300/- & a room rent of Rs.500/- if you had to hold for a night to catch the next transportation. Participants who stay with relatives or friends will be given Rs.500/- per day but those who asks for accommodation to be arranged by the Department, will get a DA of Rs.250/- per day. Participants who need accommodation must inform the undersigned by May 17, 2016. The participants must report to the DOE Guidance & Counseling section on May 25, 2016 before 5:00 pm
Rule for reimbursement: To claim for reimbursement, you must produce original tickets. If failed to do so no reimbursement will be done even if the case is genuine. The Department will not be responsible.
Dress Code for the Workshop: Boys: Traditional Tibetan Shirt with formal pants or jeans (no Hip – hops)
Girls: Chupa or Traditional Tibetan Shirt with formal pants or jeans (ankle length)
Contact: The Department of Education, CTA Guidance & Counseling Section Gangchen Kyishong Dharamsala – 176215 Phone: 01892-222572/Cell Phone: 09882403712/09805695669/09805562997
List of places & Seats distribution (58 seats):
a) List of Cities:
1. Bangalore – 2 seats
2. Chennai – 2 seats
3. Mysore – 2 seats
4. Baroda – 2 seats
5. Delhi – 2 seats
6. Chandigarh – 2 seats
7. Mangalore – 2 seats
8. Vijawada – 2 seats
9. Darjeeling – 2 seats
10. Sikkim – 2 seats
11. Kolkata – 2 seats
12. Pune – 2 seats
13. Jullundhar – 2 seats
14. Dehra Dun – 2 seats
15. 15. Shimla – 2 seats
b) Postgraduate & above seats based on student population
1. Delhi – 2 seats
2. Bangalore – 2 seats
3. Mysore – 2 seats
4. Chennai – 2 seats
5. Baroda – 2 seats
c) Tibetan Learning Center
1. Central University of Tibetan Studies, Sarnath (2 seats)
2. College for Higher Tibetan Studies, Sarah (2 seats)
3. Tibetan Medical & Astrological Institute, Dharamsala (2 seats)
4. Dalai Lama Institute of Higher Education, Bangalore (2 seats)
5. 5. Tibetan Transit School (TTS), Dharamsala (2 seats)
6. Norbulingka Institute, Sidhpur, Dharamsala
d) Tibetan College Students studying in Nepal: 06 Seats