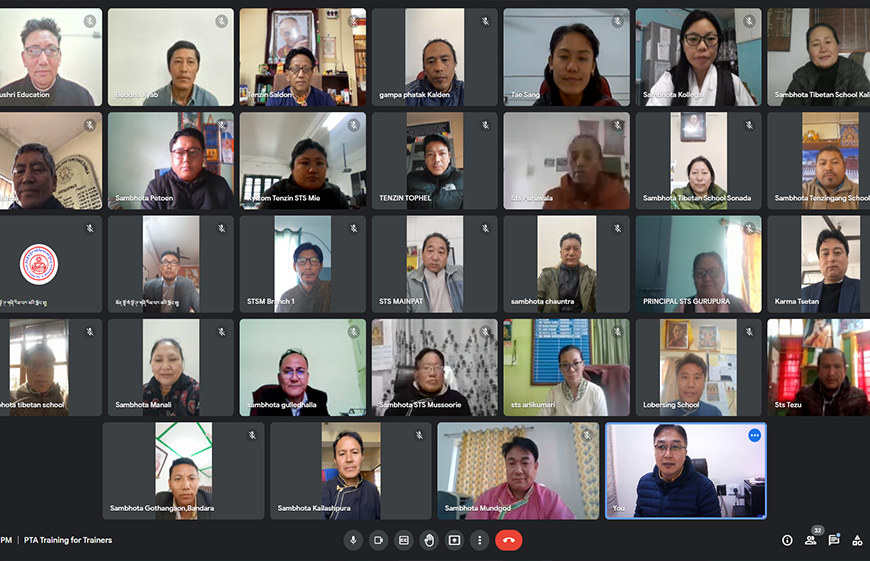 Dharamshala: The Department of Education (DoE), CTA, as a part of the PTA strengthening program, organised a virtual PTA training for trainers on Wednesday which was participated by 27 participants including principals, head teachers and lead teachers.
The DoE with the help of Manjushri Educational Services (MES) based in Dharamshala has developed a Facilitators' Guide to training the new PTA members locally by the school itself. This PTA training of trainers aims to equip the school heads and lead teachers with the required knowledge and competency to train the new PTA members.
The virtual training was facilitated by Buddha Kyab, Director, and Dr. Kalsang Wangdu, Member of MES Dharamshala. The training facilitators introduced the participants to adult learning principles (andragogy) and their application in PTA training. They used breakout rooms and divided the participants into smaller groups during sessions to discuss a given topic.
Earlier on 16 January 2023, PTA follow-up virtual training was given to the PTA members of three STSS schools in Mundgod. The school heads, teacher representatives, and parent representatives of the PTAs from the three schools attended the virtual training. The PTA facilitators from MES took sessions to make them aware of their roles and reflect upon the work done by PTAs in their schools.
The PTA strengthening program and virtual training are funded by Global Affairs Canada.