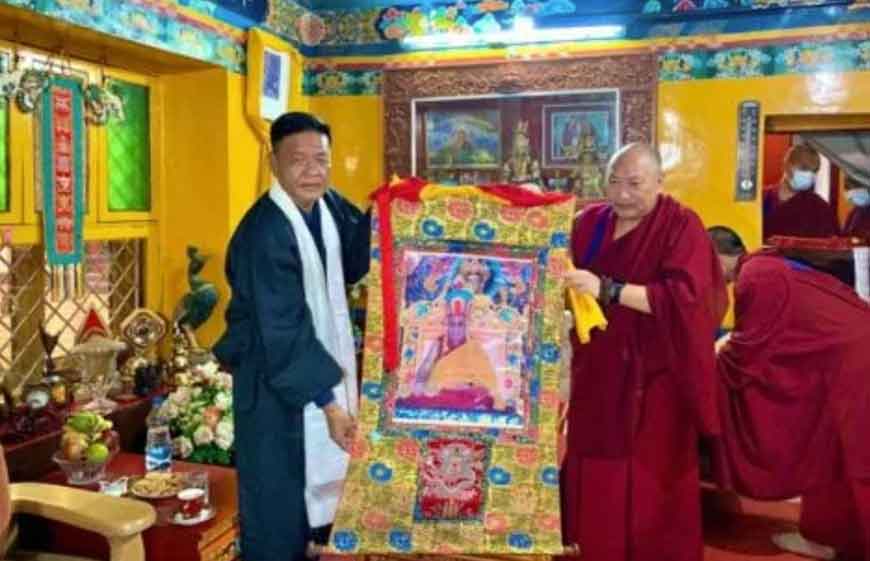 Dharamshala: Following his visit to Central School for Tibetans (CST) based in Shimla, Sikyong Penpa Tsering paid a visit to the Dolanji Bon Tibetan settlement in Solan on Tuesday where he received a private audience with 34th Kyabje Menri Trizin, spiritual head of Bon at Menri monastery.
This is the first official meeting of Sikyong with the spiritual head of Bon since assuming the office. Sikyong expressed his fervent gratitude to Menri Trizin for his benevolent activities and contribution towards Tibetan culture and religion. He also expressed his profound gratitude to the previous Kyabje Menri Trizin, the 33rd abbot of Menri Bon Monastery whom Sikyong once had the opportunity to receive an audience during one of Rinpoche's visits abroad.
Sikyong apprised Rinpoche about his ongoing official visit to the five CTSA schools that are yet to be transferred to the education department's Sambhota Tibetan School Society (STSS).
Meanwhile, Menri Trizin presented Sikyong with a Thangka portrait of His Holiness the Dalai Lama adorning the traditional Bon hat during His Holiness' last visit to the Menriling monastery.
Following his successful tour of Menriling Monastery, Sikyong visited Dolanji's Sambhota Tibetan School and addressed the staff and students of the school.
In May 2018, Sambhota Dolanji was transferred from CTSA to Sambhota Tibetan Schools Society.
Sikyong is next scheduled to visit the Central School for Tibetans based in Herbertpur.