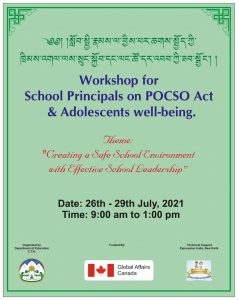 The Department of Education, CTA organizes four days (26th – 29th July, 2021) webinar based workshop on Protection of Children against Sexual Offences (POCSO) ACT and Adolescents well-beings to school Principals from India and Nepal. The first three days of workshop is conducted by Dr. Jitendra Nagpal and Ms. Rekha Chauhan from Expression India, New Delhi spoke on the importance of mental health of the students in school and the psychological implication of Sexual Abuse in the children while Mr. Vinayak Narayan, Advocate touched on the legal implications of the POCSO Act to the stakeholders.
The focus is to create safe school environment for healthy nurturing. A child can best learn in a fear free learning environment and it is utmost responsibility of all stakeholders including School Principals in ensuring a safe environment emotionally, physically, socially for the child to be a healthy learner. By creating a safe and secure school environment means happy school for all children which is a vision of HH the great XIV Dalai Lama & enabling the children to grow having strong foundation of values – so that they can use their mind in making healthy decisions and choices in life!
The resource person educated the participants on the importance of knowing these laws – The Child Rights – Right to Survival, Protection, Development and Participation, Juvenile Justice Act and POCSO ACT – 2012 for prevention of Child Sexual Abuse and understand both psychological and legal implications of the Act.
Mrs. Donkar Wangmo (Chief counselor), Department of Education summarized the learnings of the four days & requested all participants to keep the child's mental well-being at the heart of learning and nurture them with love and compassion which will enhance their academic learning. She thanked the Global Affairs Canada for funding the workshop and making it possible.
A total of 22 participants and of these, 8 are from Tibetan Children's Village (TCV); 3 Snow Lion Foundation (SLF), Nepal; 2 from Tibetan Homes Foundation (THF); 9 from Sambhota Tibetan School Society (STSS).
The workshop is funded by Global Affairs Canada (GAC).