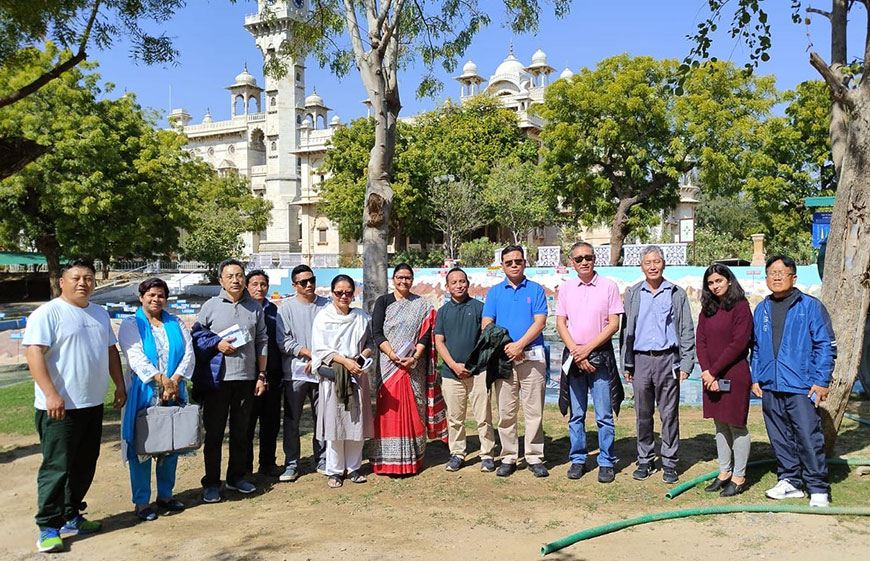 Dharamshala: The Department of Education, CTA in collaboration with Mahattattva is organising an educational exposure visit to Mayo College, Ajmer from 5 – 8 February 2023. A total of 11 school heads from three different Tibetan school systems (8 STSS, 2 THF, 1 TCV) are participating in the exposure visit. The exposure visit commenced on 5th Feb with the introductory briefing to the participants by Dr MM Mathur, HoD, Department of History and Museum Mayo College. The participants later observed the different co-curricular activities being undertaken in the college and had a fruitful discussion with R.S. Rathore about the educational philosophy and the future prospects of the students.
They visited Danmal Mathur Museum and the open-air map of India with augmented reality. The participants also attended the final of IPSE Equestrian sports at the request of the Director of Mayo College.
On 6th Feb, the school heads attended the morning assembly in which the Director of Mayo College, Lt General Surendra Kulkarni warmly introduced them to the assembly and talked about the purpose of the visit. They later visited different departments of the college and had in-depth interaction with the staff from the Department of Account.
The senior headmaster of the college Navin Kumar Dixit gave a brief introduction about the National Education Policy 2020 and it was followed by an insightful interaction with the Director of Mayo College about the roles of school leadership. He stressed the need to groom the next generation of leadership by providing them with adequate autonomy and the power to innovate and experiment. In the evening the principals visited the different sports facilities of the college.
The principals will carry out a visit to the junior section and the boarding facilities followed by a presentation on the Basic Education Policy for Tibetans in Exile by Namgyal Yemphel, Principal of STS Dholanji to the teaching staff of the college. Namgyal Yemphel is leading the team on behalf of the DoE. The exposure visit will conclude on the 8th of February 2023.
The school heads' educational exposure visit to Mayo College is a part of the school leadership strengthening program of DoE and is funded by Global Affairs Canada. The Department of Education, CTA conveys gratitude to both Mahattattva and Mayo College for facilitating the exposure visit.