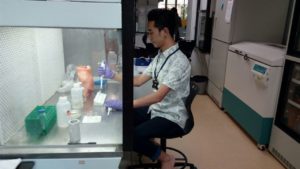 NINE TIBETAN STUDENTS OF SCIENCE STREAM INTERNING AT NATIONAL SCIENCE RESEACH INSTITUTES AT BENGALURU AND PUNE
Dharamsala July 4, 2016: The 4th Research Internship Program for science graduates at National Centre for Biological Sciences, Bengaluru and Indian Institute of Science Education and Research, Pune is underway from June 15 to July 15, 2016.
The nine students selected for this program by the Department of Education, CTA on the basis of their consistent academic excellence from Class X till their present qualification of B.Sc. 1st & 2nd year are engaged in various projects in Biomedical Engineering, Behavioral Biology, Microbiology, Computational Biology, Neuroscience, computational Neuroscience and Physical Science.
The status update reported to the DoE by the interns is quite indicative of the fact that they are getting firsthand experience in different research experimental skills like electro spinning, thin layer chromatography, dissection of honey bee brain, Ribonucleic Acid extraction, Microbial cell culture, Spectrophotometry. More importantly, they have the understanding of the underlying contextual significance of their projects and their application in daily life situations. To site a few, "Electro spinning is a prominent tool in bioengineering wherein polymers are spun to make fibers which acts as an artificial extra cellular matrix," says Ms. Tenzin Kunsang. She further adds, "I have made few sheath of fibers and my mentor is working on making scaffolds for the controlled drug delivery." Passang and Lobsang involved in Microbiology experiment on " How Antibiotics show its effect on Bacteria" say, "we measure scattering density of E.Coli by Spectrophometer." Under the guidance of Dr. Axel Brockmann, Tenzin Dawa is working on Egr 1 gene expression in Honey bee to study circadian rhythm.
The therapeutic values of the Nano fibers in artificial synthesis of tissues are milestones of Biomedical engineering in human history and so also is the study of molecular basis of circadian rhythm of Honey bees in terms of clock gene expression in the brain. Scientist are intrigued by the groundbreaking findings by a group of researchers from Hebrew University of Jerusalem that the molecular structure of the biological clock of the honey bee is more similar to the biological clock of mammals than to that of flies. Circadian rhythm is widely seen in many species. The understanding of what makes the biological clock to click may lead researchers to treat sleep disorders and various other health problems.
The interns comment that these experiences will be instrumental in their future career as they get to explore and experience the working environment of a research field. Being in the environment of highly motivated research students and interacting with them, has helped the interns to get the picture of the researcher's life and inspired them to pursue their further studies in the research. Learning of science in the real sense of its context seem to be have taken place.
These experience shared by the interns are testimony to the fact that the program initiated under the successful partnership of the Department of Education with Prof. Ron Vale and the consistent support from Prof. Rashi Tiwari and Prof. L. Shashidhara is unfolding a new era of gradual revolution in science education in Tibetan community.