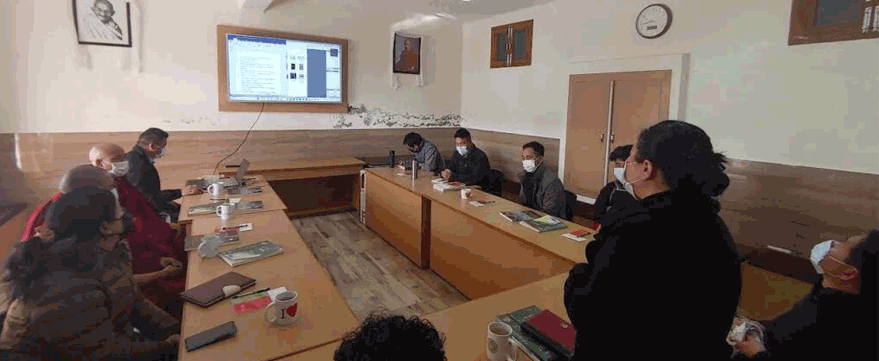 Dharamsala: The Department of Education (DoE) of the Central Tibetan Administration conducted a four-day meeting to review and finalise the draft of Teacher's handbook on Teaching Science through Dialectics, at the DoE conference hall from 27 to 30 December 2021.
On request from the DoE, Geshe Ngawang Tsondue, philosophy teacher of Mewoen Tsuglag Petoen School, had prepared the draft of the handbook based on the Science textbooks of classes IX & X. The meeting was attended by ten members of the Review Committee including Geshe Ngawang Tsondue, Tenzin Choedon, English mentor of the STSS, Geshe Aten, Philosophy teacher, Tenzin Ngodup and Lhundup Namgyal Science teachers of TCV Upper Dharamsala, Nyima Tsering, Science teacher of TCV Suja, Tsewang Rigzin from Science section of the Library of Tibetan Works and Archives, along with Gedun Dhonyoe, head of the Textbook section, Office of the Education Council, Tenzin Pal, Tibetan textbook editor and Tenzin Kalsang, web-designer, DoE.
In His inaugural address at the 5th Tibetan General Conference on Education in 2009, His Holiness spoke on the need to introduce the study of Buddhist dialectics in the school's academic curriculum. He reiterated that, "It will surely be helpful if the traditional Buddhist dialectics is used for teaching modern subjects as well". Regarding the introduction of study of Buddhist dialectics in the school curriculum, His Holiness asked the Department of Education and the Department of Religion and Culture to convene a committee to initiate the process. As a result, the Department of Education has published three textbooks on Dialectics for classes from class VI to XII. Moreover, 'Teacher's handbook on teaching Science through dialectics' for Middle school and 'Teacher's handbook on teaching Mathematics through dialectics' have been published by the DoE in 2018 and 2020 respectively.
At the beginning of the review meeting, the Director of the Office of Education Council emphasised the importance of dialectics to be used as a teaching methodology in schools, and hence requested all the Science teachers to put effort in using it in their classroom teachings.
The review meeting was financially supported by the Danish International Development Agency (DANIDA).