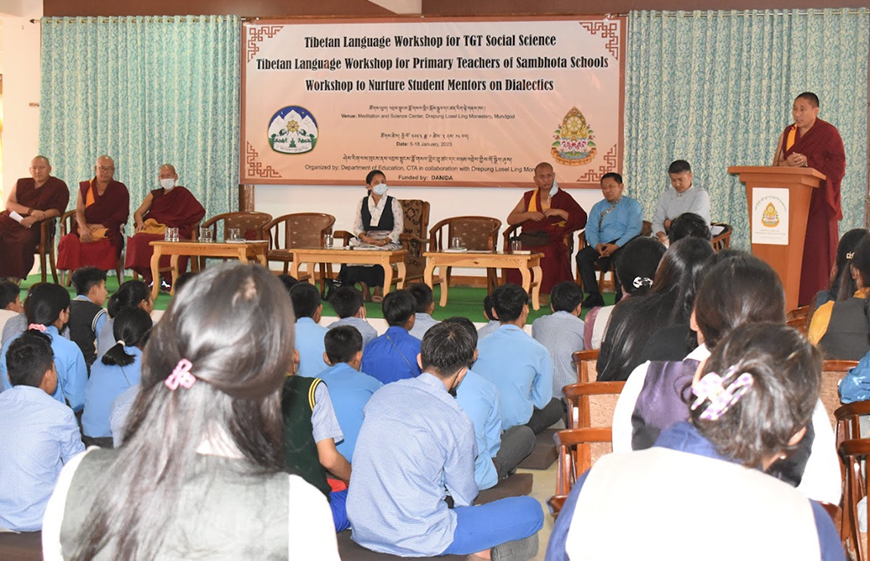 Dharamshala: The Department of Education Jointly with Drepung Loseling Pethub Khangtsen monastery are organising Tibetan language and dialectic workshops for the teachers and students of Sambhota and Selakui schools.
Around 39 teachers and 42 students are participating in the 14-day workshops held in Mundgod from 5-18 January.
The Department's head of the traditional section Ngodup Tenpa said the purpose of the workshops is to develop and enhance the Tibetan language skills of the teachers as the department implemented Tibetan as the medium of instruction in all the textbooks of primary schools.
The students selected for the dialectic workshops will be imparted a basic understanding of dialectic studies so they are sufficiently competent in teaching the subject to the other students at their respective schools.
Geshe Jamyang Wangchuk, Drepung Loseling's treasurer, assured the monastery's every effort to facilitate such a program as per His Holiness the Dalai Lama's constant advice to the monasteries to conduct similar programs.
Settlement officer Lhakpa Dolma who was invited as the chief guest insisted on the need for laymen to study the traditional knowledge.
Tenzin Dorjee, Head of the academic section, delivered a vote of thanks to everyone.