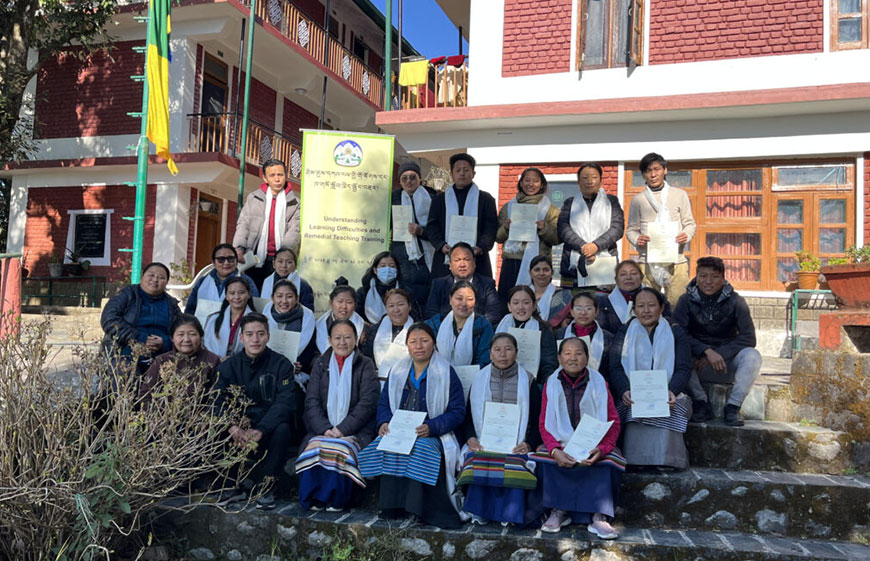 Dharamshala: The Department of Education, CTA, organised a six-days training on Understanding Learning Difficulties and Remedial Teaching for 22 Tibetan primary teachers from 26 – 31 December 2022.
The training aims to capacitate participating teachers to identify and understand children with learning difficulties in their classroom and to develop approaches for the challenges and learning needs of such children. These play a crucial role in accelerating these children's performance in studies. Simultaneously this will also boost their confidence and self-esteem, which again will give them the motivation to study.
Therefore, this wrapped-up training focuses on understanding children's needs and challenges through formal and informal assessment. Some of the assessment tools discussed during the training were BCLD, Schonell reading and writing, DTLD and Brigance. Teachers also had a practical session with primary children for 2 days in the afternoon. With the assessment results, the participants learned preparing IEP and Remediation skills in those concerned areas along with classroom accommodation strategies.
The resource person for the training was Rani from Hyderabad.
During the closing ceremony of the training, chief guest Jamyang Wangyal, the Joint secretary of DOE, stressed the importance of sharing the learned knowledge and skills with other teachers and implementing those strategies in their schools considering the importance of inclusive education. On behalf of DOE, he further expressed heartfelt gratitude to PRM for funding the Training.