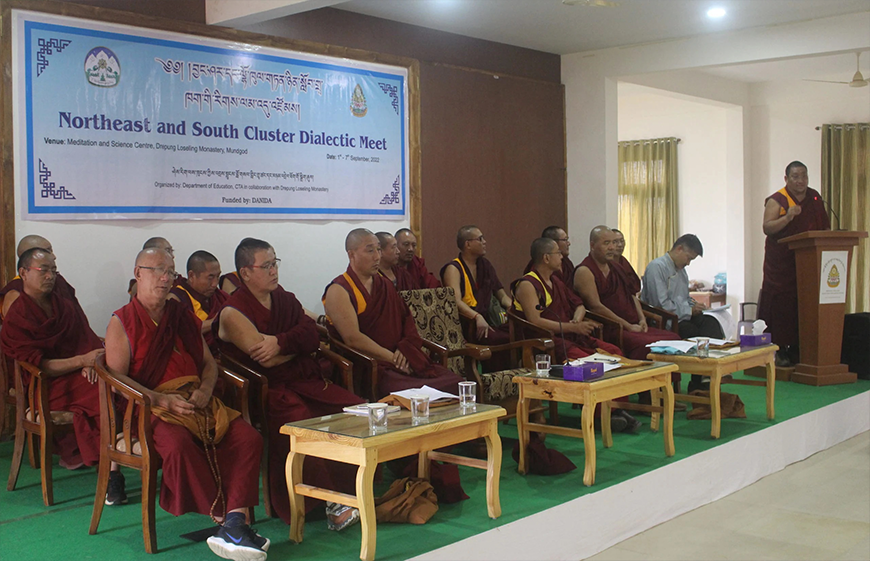 Mundgod: Department of Education (DoE)and Drepung Loseling monastery collaboratively held a dialectics conference for Tibetan schools in northeast and south India. It was presided by chief guest Parliamentarian Geshe Atuk Tsetan and special guests, Drepung Loseling treasurers Geshe Jamyang Wangchuk and Geshe Tenzin Nyendak, and attended by philosophy teachers and students.
The 7 days-conference began with the welcome and introductory remarks from the Department of Education staff Ngodup Tenpa. This time, 14 schools from the northeast and south regions participated with 113 students and 14 philosophy teachers. The programme started early at 6.30 am and lasted till 8.30 pm, including individual classes, oath-taking and debates.
Geshe Jamyang Wangchuk stated that as per His Holiness the Dalai Lama's instruction, traditional knowledge is to be studied by laymen as well as monastics. DoE has accordingly organised several such conferences, while this time it was planned to be held at Drepung Loseling in May. He further assured that the monastery would put every effort into facilitating the programme.
Chief guest, Parliamentarian Geshe Atuk Tsetan underscoring the importance of dialectics, "My topic is on the importance of dialectics as such speaking in front of the gathering of Buddhist dialectics teacher, it is more appropriate I do so that it aligns with the regular teachings of the teachers so that it will be more impactful for the students. His Holiness has frequently highlighted the need for both lay and monastics to study the guiding principles of Buddhism. Belief is good, but beyond that, it is important to understand the guiding principles of Buddhism. Regardless of the level of knowledge, the foundation should be strong then only can it support knowledge."
Finally, Sherig staff Ngodup Tenpa representing the Department of Education, thanked the chief guest, special guests and the teachers and students gathered there for their participation and concluded the inaugural programme.