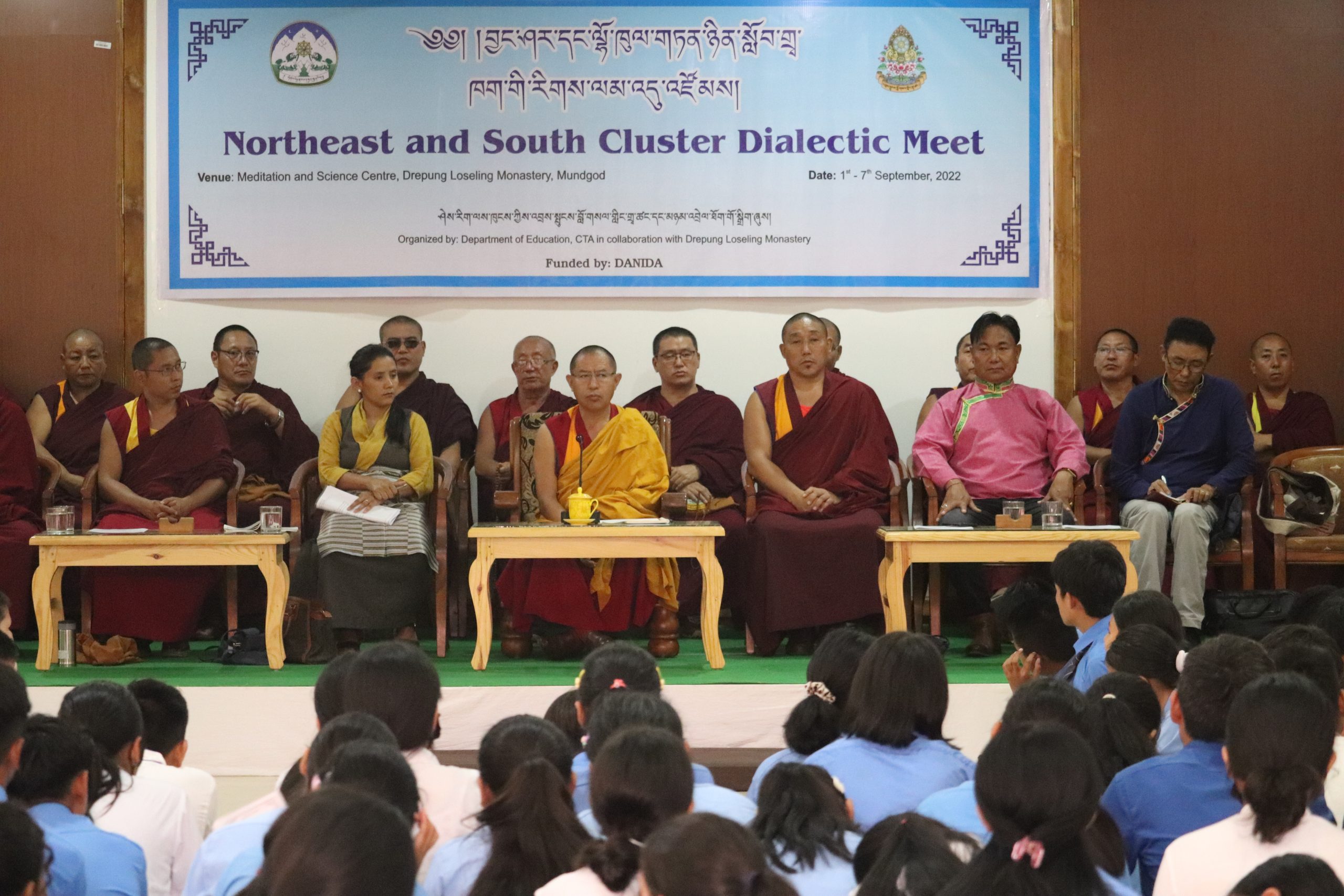 Mundgod: The Buddhist dialectic conference for middle-school Tibetan and Science teachers and northeast and southern region students of Sambhota Tibetan Society Schools by Sherig and Drepung Loseling monastery came to a conclusion. The closing ceremony was presided by Khen Rinpoche Jetsun Lobsang Samten of Drepung monastery and attended by settlement officer Lhakpa Dolma and Drepung Loseling treasurers Geshe Jamyang Wangchuk and Geshe Tenzin Nyendak, Principal and teachers of Sambhota based in Mundgod.
Sherig traditional section programme officer Ngodup Tenpa while presenting the workshop report, informed that workshop was organised as per the broad vision of His Holiness the Dalai Lama, especially with the view to sharpen the intellect of students in the future. Sherig originally started this programme in 2012 and in the past few years, the Science and Math teachers have been part of this workshop. This year, 17 middle school Tibetan teachers took part in the workshop, which is a first.
Settlement officer Lhakpa Dolma expressed her happiness at learning about the dialectic meeting for teachers and students. She acknowledged in commend its potential to improve comprehension capacity of both teachers and students. Citing His Holiness the Dalai Lama and former Kalon Tripa Samdhong Rinpoche, she added that the learnings from this workshop can be implemented in the schools and likewise requested the Drepung monastery to continue to facilitate this programme like others before.
Chief guest Khen Ripoche correlated learning dialectics to laying a foundation to build a many-storied house.
At the end of the ceremony, the chief guest presented the trainer Geshe Ngawang Tsondue and Lobsang Gyatso with scarves and certificates, participating teachers also received scarves and certificates. The special guest likewise presented scarves and certificates to the dialectics teachers and 113 students. All the participants received a bag and a packet of incense sticks each as tokens of appreciation.
Traditional section's Programme officer Ngodup Tenpa concluded the programme with a vote of thanks.