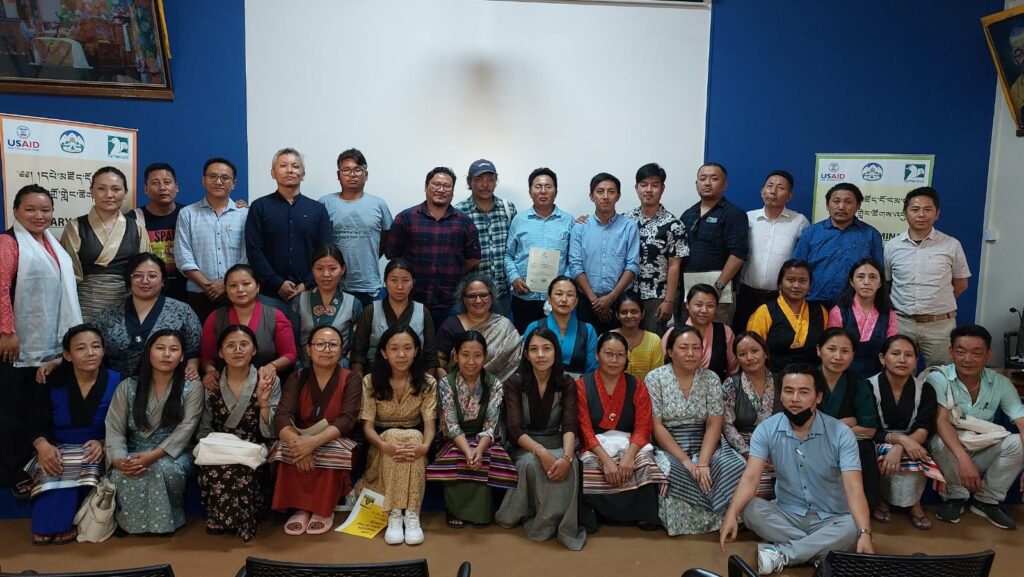 Dharamshala: The Department of Education, CTA for the first time organized a three-day Library Seminar for the school librarians and community
librarians from 22 – 24 June 2022 to provide a platform for the librarians who received training and exposure in various forms to present their knowledge and share their experiences with other librarians. Thirty-five librarians with thirty school librarians and five community librarians took part in the Seminar. The DoE has organized various programs to improve school libraries and empower school librarians since the year 2013 in recognition of the importance of librarians as a part of the professional development of librarians.
Twelve librarians were selected for the presentation during the Seminar. Sujata Noronha and Anandita Rao of Bookworm, Goa supported this Library Seminar by guiding the presenter and preparing them for the Seminar for nearly two months. The presenters covered various topics such as; Reorganising a NEW system, Book Making, Library Vocabulary, Collection and readers ownership, Book Display, Teacher Lounge, Pop-up library challenge, Linking Curriculum and Library, Tibetan Book Reading program, Character alive & hot seating, DEAR activities, etc. Tsering Kyi from Women Empowerment Desk, CTA took a session on the Menstrupedia Comic Book to spread awareness among librarians and brainstormed on the kind of activities they can do with students to open up the discussion on the comic book in schools. The participants also visited the Library of Manjushri Educational Services at McLeod Ganj to explore the community library and performed several activities.
Education Secretary Jigme Namgyal presided over the inaugural program attended by Passang Tsering, Principal of CHTS, Sarah, Sujata Norhnha and Anandita Rao from Bookworm, Goa (facilitators of the Seminar), Tenzin Dorjee, Head of Academic Section, and dealing staff Sonam Gangsang.
The Secretary in his opening remarks explained the essential role played by librarians in inculcating reading habits among the students and teachers through various library activities. He also spoke about the importance of an open library to have free access to reading materials for the readers.
The Library expert, Sujata Noronha, Bookworm and Usha Mukunda, Centre for Learning, Bangalore have been constant guide and mentor for the Department of Education in implementing Library Programs across Tibetan schools since the inception of this project in 2013. At the inaugural program, Ms Usha Mukunda addressed the librarians virtually on the importance of reading and applaud the initiatives taken by DoE.
Mr. Tenzin Dorjee at the closing program thanked Sujata Noronha and Anandita Rao for their guidance and also acknowledged the constant support and motivation of Usha Mukunda. He also thanked librarians for actively participating in the Seminar and motivated them to play a more active role in raising lifelong readers in our community.
All the library programs of DoE and the Library Seminar are funded by USAID.