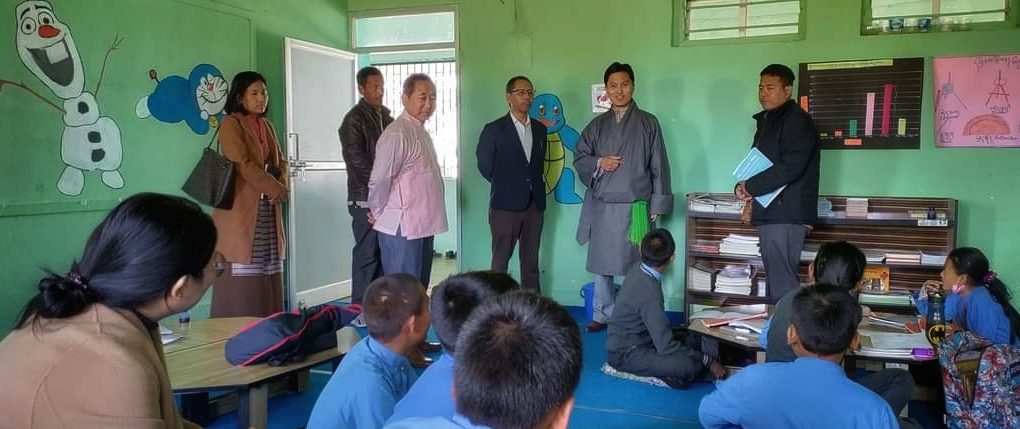 Bandara: Secretary Jigmey Namgyal, Sambhota Director Tsering Dhondup, accompanied by the Project Officer Jigme Yangchen, departed for Norgyelling Tibetan Settlement on 4 December, after attending the 7th STSS Governing meeting at the Bureau of the His Holiness the Dalai Lama, New Delhi.
The officials visited the STSS Gothangoan the following morning with the Tibetan Settlement Officer Dhondup Sangpo and were welcomed by the faculty and students of the school. The school Principal briefed them on the annual report and various initiatives to promote Teacher's Professional Development and improve the education quality.
Thereafter, Secretary addressed the students on three key points: developing reading habits, wellness and diet, and limiting excessive screen usage. Addressing the parents and the teacher, he commended the teacher's dedication and sincerity toward shaping children's future and stressed primary education as the department's top priority in building a strong educational foundation. Additionally, he expressed with them about the department's effort in sustaining the primary schools at the settlement as per the Basic Education Policy, which supports settlement sustainability despite the department's effort in addressing the challenges of new enrollment. He concluded his address by speaking briefly about the importance of educating faculties and students about the POSCO act and related issues.
On 6 December, they paid a short visit to monasteries, followed by a visit to the Tibetan Settlement Office, Primary Health Care Center, Men Tseekhang, Cooperative office, Rice mill, and Old People's Home before departing for Mainpat Phendeling Tibetan settlement.
The next day, the officials visited STS Mainpat, where they interacted with the students & staff, felicitated the award to the best boy & girl, and honored the school head for his 25 years of service. They visited each classroom, discussed the importance of early childhood education with parents, and informed them about the department's initiatives, followed by a question-and-answer session.
The officials also paid a brief visit to the Tibetan settlement office, the Cooperative society office, and the Old People's Home in the evening. After concluding the successful visit at both schools, they are currently in the Phuntsokling Tibetan settlement.