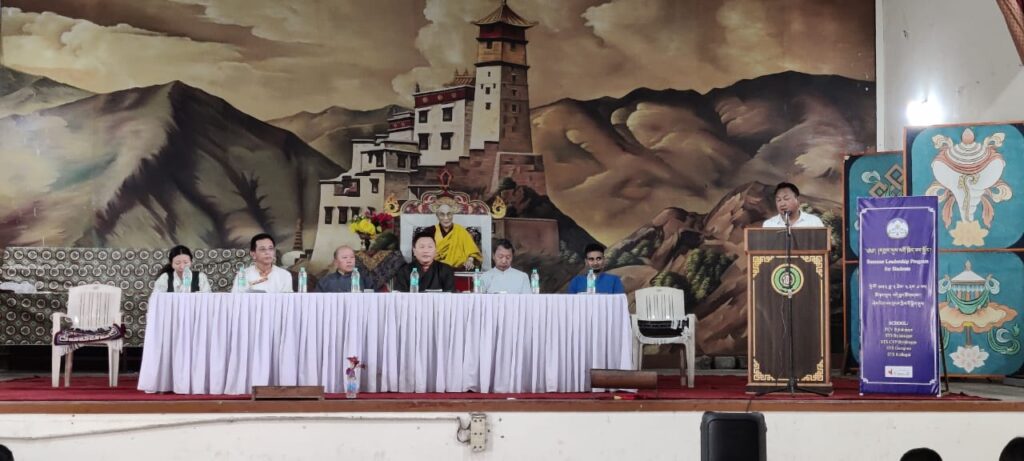 Bylakuppe: The Department of Education, CTA is organising a Summer Leadership Program for grades VII to IX students of TCV Bylakuppe, STS Bylakuppe, STS CVP Bylakuppe, STS Gurupura and STS Kollegal from 3rd-7th May 2023 at Bylakuppe.
The workshop's goal is to provide different opportunities for the students through club systems to enable student leadership. After this workshop, the school will form different clubs based on interests, needs and challenges. Students will lead the clubs, counsellors will be the facilitators, and teachers will join the clubs as mentors. The workshop will cover Goal Setting, Tourism Games, Agriculture – Innovations, Planting Microgreens, Climate Change & Technology, Energy Audit of the school/building, Productive software and websites, Story Telling and Theatre, and the formation of extraordinary clubs at school.
The inaugural function was attended by Guru Nyima (Lugsam Settlement Officer), Chime Dorjee, (Dickey Larsoe Settlement Officer), Namgyal Tsering (Principal, TCV Bylakuppe), Dawa Tashi (Principal, STS Bylakuppe) and Tsering Choephell (Principal, STS CVP Bylakuppe).
The settlement Officers highlight the importance of leadership skills in life and reminded the students of the responsibilities of a Tibetan. They thanked the Department of Education for organising the workshop at the settlement where every student gets a chance to participate. The chief guests also advised the students to keenly participate in this five-day workshop.
The Summer Leadership Workshop, funded by Global Affairs Canada (GAC), is a platform where participants will learn more about themselves and contribute towards resolving social issues productively.
A similar workshop was held in STS Mundgod and TCV Gopalpur in the year 2022.
This workshop is facilitated by CEO & Founder Adithya Subramanian, KAARMIC Education & adventureX, social award-winning NGO, Telangana and his team.